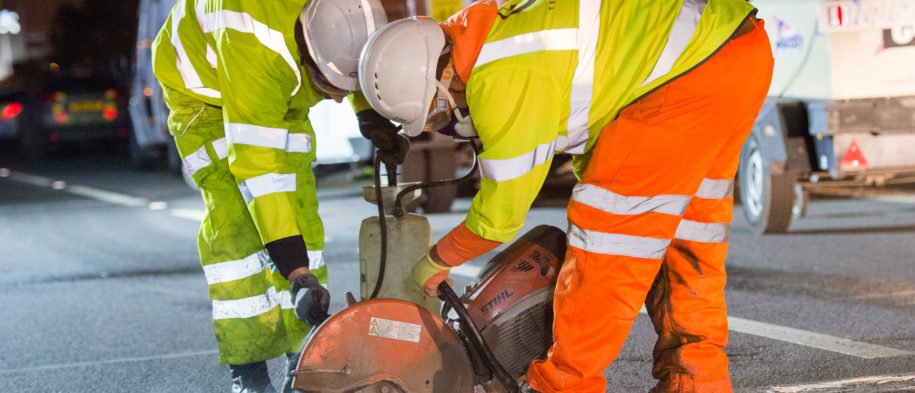 Creating a smooth, safe and serviceable network
Executive Summary

In a move to continually improve surface quality, we have decided to take a more holistic engineering approach to exposed concrete pavements by trialling different treatment types. We commenced a trial during September/October 2018, to compare the performance of five different surface treatments on a stretch of the M1 with an extensive testing and monitoring regime, running until 2023. The outputs will inform all parties of the best treatment or combination of treatments going forward. The first interim report on the performance of the various treatments has been drafted and the key findings indicate an improvement in all treated areas. The performance measures will be monitored and reported on for the duration of the 4-year trial.
The Need
This trial will inform which treatments provide a longer service life, resulting in fewer road closures and more reliable journeys. The treated surfaces are assessed on their capability to provide an adequate and durable skid resistance surfacing, contributing to a safer network. A longer-lasting surface also reduces the need for workers to be exposed to high-risk working environments, and longer lasting treatments require fewer repairs, resulting in reduced carriageway closures.
The treatments will also be assessed against noise (both during the construction period and generated in use), waste generation and the use of limited natural resources during their lifecycle.
Aims & Objectives
The aim of the trial is to provide definitive data to assess the compliance and performance of various surface treatments for exposed concrete pavement, and to demonstrate that these treatments can contribute to meeting Highways England's and the M25 Project Road objectives.
Solution
The trial site is located on the M1 between Junctions 6 and 5, with a carriageway surface of exposed pavement quality concrete. Treatments are being undertaken using the following techniques:
Untreated section (control)
Longitudinal Diamond Grinding – involving the creation of longitudinal grooves using diamond tipped saw. The closely spaced blades cut longitudinal grooves at a pre-determined width and depth.
Fine Milling – this makes use of a standard planer with enhanced milling bits to enhance texture depth
Shot Blasting - an abrasive system that impacts the surface of the pavement with high velocity steel. This technique improves macro texture of the road
Application of two types of thin surface course System (TSCS), one with a 35mm thickness of overlay and another, ultra-thin surface course system with a 20-30mm overlay. Both will restore surface characteristics and reduce traffic noise
Other concrete surface treatments were considered but discounted following a review.
Each surface treatment was applied on a minimum length of 150m and across the full width of the road, including the hard shoulder.
This continuous performance monitoring will focus on changes to surface condition skid resistance, texture, rutting, noise and the visual condition. The study also aims to incorporate laboratory testing and accelerated pavement testing to determine the long-term performance of these treatments. In addition, we'll engage with our customers through a road user perception study.
Plan and Progress
We will use our findings to update the M25 asset strategy for concrete pavements. The 4-year assessment of the trial sections, together with predictive laboratory testing, are aimed at obtaining robust information to support this strategy.
Measuring Success
The first interim report detailing initial results post-installation has been provided to Highways England. It demonstrates an improvement in all treated areas in terms of skid resistance, texture depth and noise reduction relative to the control section of exposed concrete.
Feedback
Feedback was received from a local resident in relation to the noise levels as follows:
"I would like to tell you that the M1 Bricket Wood re-surfaced road surface between J6 and J5 on the southbound carriageway has made a huge different to noise levels making them very much lower to the area I live in. Before you could hear the constant drone of the motorway, now the new surface has been laid the sound level is so much lower you can hardly hear the motorway."
We've drafted the first report on findings from the initial testing and it's shown an improvement in all treated areas in terms of high-speed friction, texture depth, and noise levels. These performance measures, in addition to others such as rutting, low speed skid resistance and visual condition, will be monitored and reported on for the duration of the 4-year trial period.