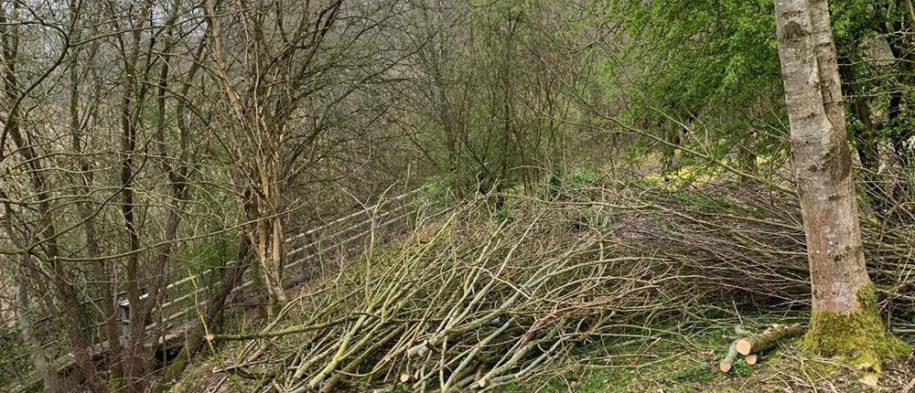 Protecting the Surrey Iron Railway -  a registered ancient scheduled monument - through woodland management
Executive Summary

The Surrey Iron Railway is a registered ancient scheduled monument (Historic England), lying within the ownership boundary of Highways England.
 https://historicengland.org.uk/listing/the-list/list-entry/1005932
The remaining earthworks are being damaged by tree colonisation across the area. Trees damage earthworks by potentially breaking off embankment walls and obscuring the structure, therefore, a proposal was created by Connect Plus Services to cut and remove the trees along the rail earthwork structure, and kill the roots rather than digging them out.
The Need
In the Environmental Designated Fund (EDF) Plan, the aim of the Cultural Heritage section is stated as 'Reducing the impact of the network on the historic environment and to conserve and enhance the setting (and condition) of cultural heritage and historic features either within Highways England ownership or in proximity to the Strategic Road Network.
Aims & Objectives

The aim of this scheme was to protect the railway earthwork structure of the scheduled monument, which lies within Highways England's land.
The scheme required the cutting down and removal of self-set trees along the line of earthworks, while poisoning the roots to reduce the potential for regrowth from the coppiced stumps.
Solution
We removed the trees from along the line of the scheduled monument. We then poisoned the stumps which will reduce the potential for regrowth.
These works have now been successfully carried out.

Plan and Progress
Highways England EDF Plan – Cultural Heritage Annex F, is the larger plan and guidance to reduce the impact of the network on the historic environment.
These works fall under that plan and we're proud to have worked in partnership with Highways England to protect another scheduled monument from vegetation damage.
Measuring Success
We carried out and completed the works successfully and without any issues. The vegetation we removed from the railway line was recycled and used within the adjacent woodland areas as biodiversity habitat piles.
Feedback
The completion allowed Highways England to successfully claim their KPI for 2019-20.
The woodland will take many years to fully create and establish the ground flora, partly through natural re-seeding and aftercare management. Aftercare will consist of cutting back invasive plants, ensuring that the planted trees survive - or replacing those that do not – and herbicide spot treatment if required.
The project has concluded, however, follow-up visits may be required in the coming years for spot-treatment of any re-growth or any new self-set plants.