Connect Plus is a consortium that includes Edge Orbital Holdings Ltd, Balfour Beatty and Egis Investment Partners - a unique partnership with a collective strength in highways maintenance and management.
Over 10 years ago, National Highways awarded Connect Plus the contract to operate and manage the M25 and its key arterial link roads. We're incredibly proud of the fact that it's National Highways' flagship private finance initiative (PFI) and is the largest highways PFI ever awarded.
During this time, we've delivered over £1.4bn worth of road improvements and junction enhancements, and we are continually exploring new and innovative ways to deliver safer, more reliable journeys for our customers.

The M25 network plays a pivotal role as the hub of National Highways' strategic road network, supporting journeys in and around London, and connecting customers with other parts of the UK and Europe.
We pride ourselves on working collaboratively with National Highways and our supply chain partners in providing the framework for delivering core operations and maintenance services as well as significant asset renewal and improvement schemes. We value our stakeholder relationships, which is why we've invested heavily in achieving and maintaining accreditation to the internationally recognised standard ISO 44001 for collaborative working.
Together with Connect Plus Services, our specialist and strategic supply chain partner responsible for operations and maintenance, we're passionate about delivering the long-term needs of the M25 and improving the driving experience for all our customers.
The M25 DBFO concession is one of the busiest networks in Europe, and one of the UK's most strategically important road infrastructure systems, crucial in underpinning the UK economy.
The network is used by, on average, between 150,000 and 200,000 vehicles a day.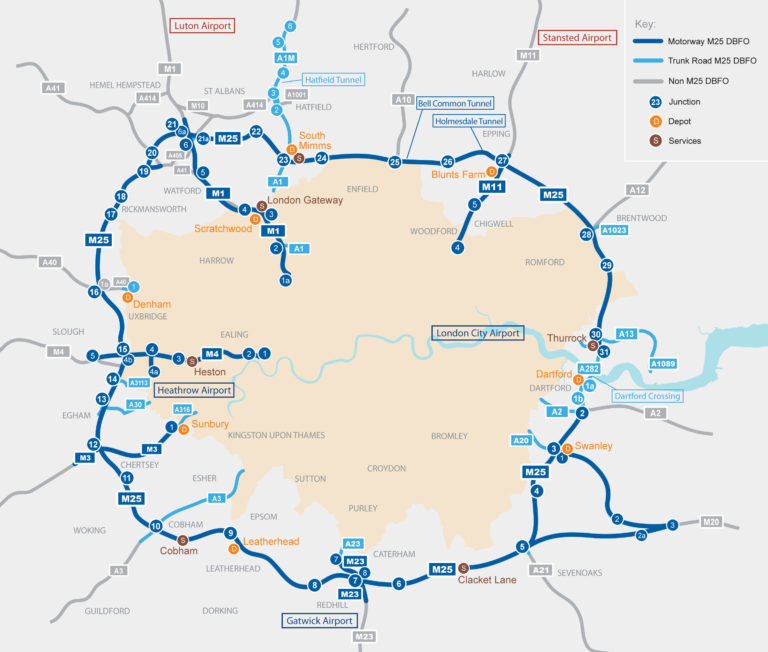 What we do
We're responsible for operating and managing the M25 network and associated arterial link roads around London, providing our customers with a world-class highway service.
Since the start of the contract, we've delivered two important upgrades. The first, a major widening project and refurbishment of the Hatfield Tunnel was completed on time prior to the London Olympics in June 2012. The second was completed in Autumn 2014, and included the first all lane running (ALR) project of its kind.
We've been making major maintenance improvements to the M25 network from day one, and will continue to do so. Since 2009, £1.4bn has been invested to provide additional capacity enhancements for the benefit of the road user.
We'll continue to work hard to ensure that the network is in a position to accommodate nationally important infrastructure projects such as HS2 and the planned Heathrow expansion programme.
Many of the UK's largest companies rely on the M25 to transport goods and services across the UK and beyond. Both internationally and domestically, we support the UK economy by providing access to global markets through two major container seaports, and transporting people and freight to and from five international airports.
FACTS AND FIGURES ABOUT THE M25 DBFO CONCESSION
It's one of the busiest networks in Europe
It covers over 440km (273 miles)
It includes:

5 tunnels
2,500 structures including bridges, culverts and overhead gantries
140,000 other highways assets

It carries 15% of all UK motorway traffic
At its busiest section in the South West quadrant, it's used by over 250,000 vehicles a day
The Strategic Road Network is divided into 14 areas. The M25 and its arterial routes falls under Area 5