Our vision is to excel, inspire and innovate in delivering the long term needs of the M25 network through: assure, invest and deliver.
ASSURE
We assure that our contract with Highways England is fulfilled by continually assessing how their requirements can be delivered more efficiently, ensuring that agreed changes are rapidly and fully embedded in our organisation and within our supply chain.
We understand the needs and constraints of Highways England and work collaboratively with them to develop and maintain a robust performance culture. Our performance management plan is clearly aligned to Highways England's new strategic objectives and the revised project road objectives, ensuring a clear line of sight from Highways England's delivery priorities to the suite of performance measures by which we monitor ourselves.
In order to deliver best practice, we have implemented and continuously maintain an integrated management system that is accredited by BSi and certified to PAS99. This forms the framework by which we monitor both our own performance and that of our supply chain partners and includes a robust risk-based audit plan and governance structure. By working collaboratively with all areas of our business community, our aim is to identify performance issues early and ensure that resultant interventions are appropriate and deliverable.
Through the proactive management review, we showcase best practice that addresses the changing needs and priorities of the network.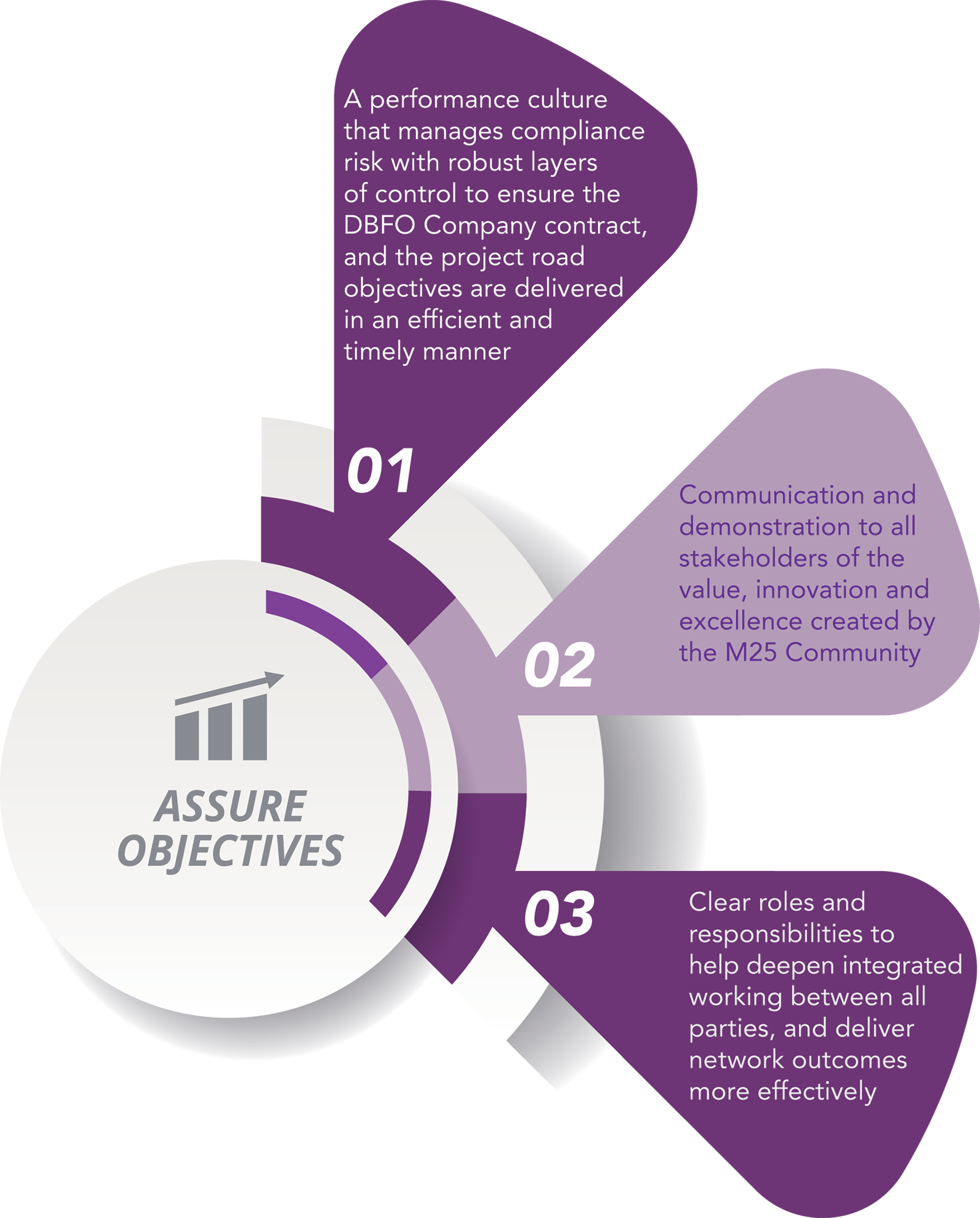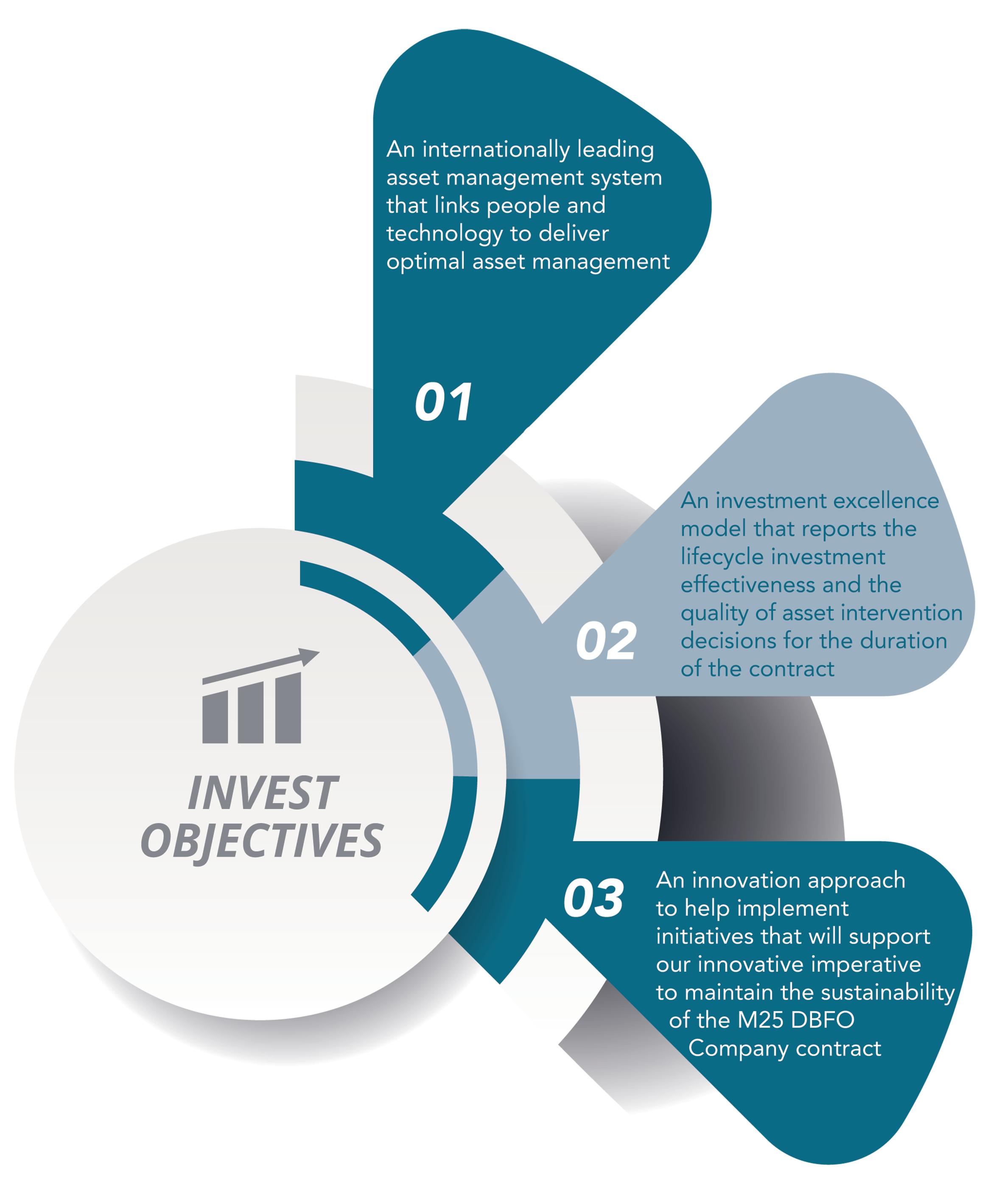 INVEST
We are responsible for ensuring that renewals expenditure is targeted at securing both the short- and long-term objectives of the M25 network. The end-to-end asset management system, certified to ISO 55001, underpins this investment planning and execution of up to £80m of Connect Plus and Connect Plus Services renewals activities each year.
Quality asset data and IT tools support our engineers throughout our asset management system's phases of analysis, planning and delivery. Data is our most valuable asset in understanding movements in asset condition, sensitivity from key risks and opportunities, and the impact of intervention decisions over the long term. It is essential to demonstrate to all stakeholders an effective and sustainable stewardship of the asset over a rolling 30-year period, including handback in 2039.
Since 2009 we have focused on how we can use innovative techniques on this challenging network to analyse, plan and deliver required asset performance levels in the most efficient way. The next wave of innovation on the M25 network is captured and developed under the stewardship of our innovation steering group and supported by our innovation fund.
Their establishment is then accelerated by our innovation implementation working group, which supports our supply chain to ultimately deliver our innovation imperative to generate the necessary cost savings for the M25 DBFO contract to remain sustainable.
DELIVER
We are responsible for our supply chain as an informed and intelligent client delivering all projects and services on the network. Connect Plus Services, our specialist and strategic supply chain partner, is responsible for our core operations and maintenance requirements. In addition, we have two other procurement frameworks: to deliver significant lifecycle renewal works, and Highways England funded network improvement sechemes.
The lifecycle renewals framework (certified to ISO 44001) delivers  up to £80m of renewals investment each year and has been in place since April 2017. We have improved our framework approach, encouraging our supply chain to deliver more innovation and efficiencies. We are also increasing our focus on how we share our objectives with all tiers of our community and encourage them to bring their innovative ideas to the M25 network.
We have an important governance role in the delivery of projects on the network, acting as a sponsor for renewals and improvements investment. We ensure programmes are delivered, risks are managed, opportunities are realised, and robust commercial management is in place. In year efficiencies and innovations are identified and realised as projects pass through our M25 gateway process, and are subject to targeted value engineering activities.
A key part of maintaining these frameworks and delivering year-on-year improvements are the collaborative transformation steering group meetings with our supply chain, annual reviews, supplier days and facilitator training.