Our innovation strategy is supported by the identification of innovative techniques, products, systems and tools that contribute towards improvements in:
Long life materials and equipment research
Maintenance and operational techniques, including information technology
Sustainability and energy saving
Health, safety and wellbeing
The approach continues to include evaluating, studying and trialling methods and products that:
Have been used in the UK, but not before on the M25 network
Are in use internationally, but have not previously been adopted in the UK
Have not previously been used within the highways sector
Our Innovation Steering Group (ISG) continues to deliver the innovation process across the M25 Community. The group includes representatives from Connect Plus, Connect Plus Services, National Highways and all of our framework contractors.
The vision of the ISG is to create and maintain a sustainable and supportive innovative community culture, by creating the time, opportunity, tools, relationships and communications.
During last year, six Lunch and Learn sessions and four Innovation Forums were hosted. They focused on a range of topics from external and internal presenters. These sessions centred around sharing innovative opportunities with the community and helped generate ideas for other community members.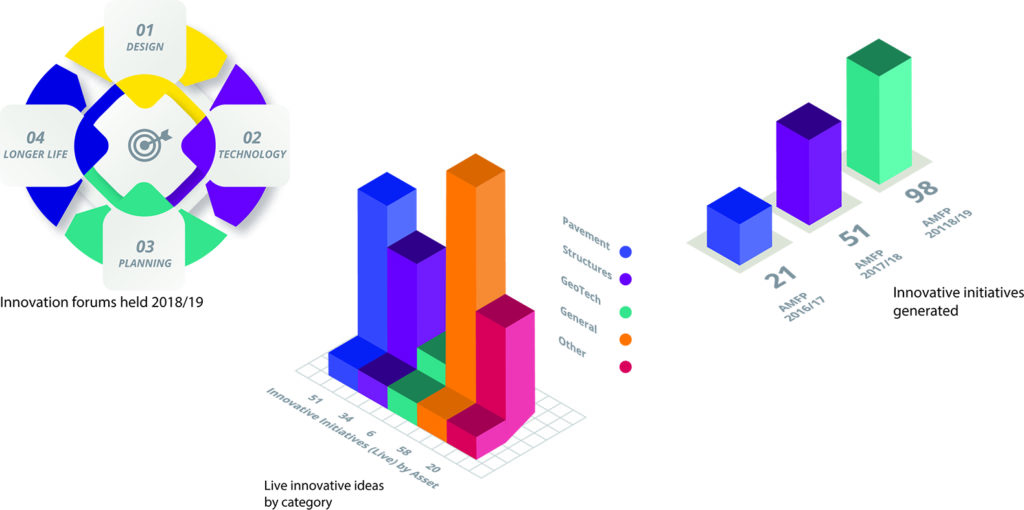 For the first time, the Lunch and Learn sessions were delivered by video conference allowing those who were unable to attend, to view and access the presentation remotely. This resulted in 135 people from 10 companies joining the sessions. 98 new innovative ideas were subsequently captured throughout the year - almost double the ideas submitted in the previous year.
The innovation fund for last year focused on three contrasting projects:
Automated Crack Detection in Pavements
Pavement Defect Heat Mapping
The network is changing, with new, cutting-edge technologies being developed that will not only improve our customers' driving experience, but will create a safer working environment for our workforce. The Innovation Board will continue to champion new ideas to ensure we are at the forefront of this new era.