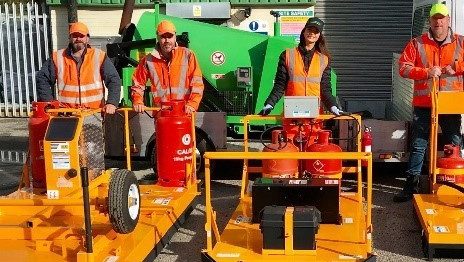 From time to time potholes form in the carriageway and depending on their severity, can potentially become a hazard to the road user. With the introduction of Road Mender, carriageway repairs can now be delivered more efficiently and effectively.
Executive Summary

The Road Mender initiative was developed as the result of a Don't Walk By (DWB) submission, which is an internal programme we have in place to continually improve our organisation. The DWB submission suggested a more efficient way of carrying out permanent repairs on the carriageway through the use of a mobile and volumetric piece of plant producing good quality Hot-Mix Asphalt for pavement defect repairs in all weather conditions. Following a successful trial period, it has been rolled out across the network.
Aims & Objectives
Previously, the method for carrying out a temporary repair utilised Viafix - a cold material that remains workable in very low temperatures, but hardens like traditional hot asphalt when water is added.
Nevertheless, this requires routine monitoring - which is difficult in a live lane situation. The Road Mender, however, gives us the opportunity to provide a permanent repair.
Solution
Working in this way delivers significant operating efficiencies, performance benefits and minimises impact to the travelling public. We can now implement our own durable, long lasting asphalt hot-mix in the exact quantity needed, at the correct temperature for ideal compaction, directly at the job site with minimal waste and without the need to visit an asphalt plant.
The Road Mender heats a total of 200kg of AC10 asphalt, added in 20kg bags. It's able to reach its desired temperature in just 8-12 minutes.
Currently one Road Mender serves the whole network out of our Scratchwood depot and is operated by a dedicated and specially trained team. While Viafix continues to be used for safety mitigation, Road Mender is now fully utilised and used for all permanent carriageway repairs.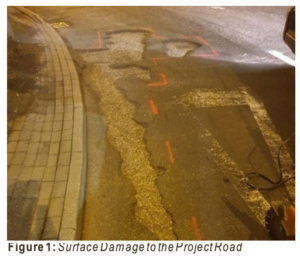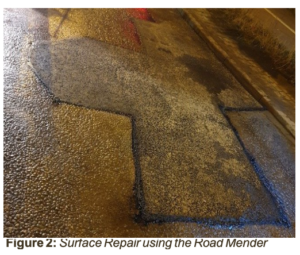 Measuring Success

This is the first Road Mender to cover the whole of the network and within the next few months it will be replaced with two larger, water-cooled Road Menders, operating out of Swanley and Scratchwood Depots. Utilising this process not only gives us a saving of up to 70% on materials, it also gives a reduction in waste and a significant reduction in the exposure to noise, dust, hand-arm vibration syndrome (HAVS), oils and greases.
Working collaboratively with the Roadspace Team to achieve optimum productivity within road closures also results in less disruption to the travelling public.
Feedback
Roadmender won the National Joint Utilities group award for Innovation, The Street Works UK Award for Sustainable Methods and the Utility Week Award for Excellence in Street Works.
We aim to introduce two 350kg 3.5T Road Menders onto the network, together with two 5T Road Mender support vehicles and two infrared heating units that will be brought into routine operations as part of the Road Mender process.
We will also be training four dedicated Road Mender operators and look to improve the availability of Road Mender to the contract. Through further use of Road Mender, we're working towards the elimination of HAVS, caused by continued use of a pneumatic breaker.