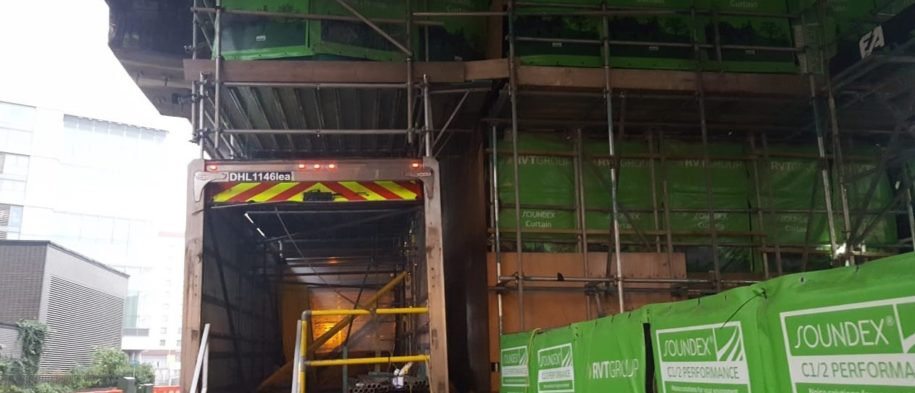 Identifying innovative solutions to reduce the impact of our works on our neighbours
Executive Summary

When undertaking concrete repair and refurbishment works to the substructures supporting the M4 elevated section, Connect Plus and Connect Plus services developed an innovative solution to help reduce the issues caused by working in close proximity to local residents and businesses.
The required repair works included the removal and reinstatement of delaminated and poor-quality concrete, together with the installation of cathodic protection. Previous works in this location had identified significant risks, not only due to the scope of works, but because of the proximity of residents which, in some locations, is less than 10m.
One of the aims of this initiative was to reduce the disruption, specifically in regard to noise, that the project caused to local residents.
The Need
It was essential that we found a way to reduce the environmental impacts to local residents and businesses in West London resulting from these essential renewal works.
Solution
We began the offsite trialling of a vehicle-mounted access arrangement, that can be driven into position and erected quickly with full noise and dust suppression. Once the trial was deemed a success, we were able to move the scaffold into position without the need to implement a full road closure, keeping a single lane open to traffic.
We made some slight modifications to the access including the installation of Soundex acoustic curtains, providing full encapsulation at both the tip and root of the crosshead cantilever. Noise levels were continually monitored, and additional blankets were added to close the gaps if required.
Using the access scaffold resulted in a considerable reduction in work-generated noise levels. By fully enclosing the works, they dropped from 93db to 73db during hydro demolition. Further on-site monitoring reduced this again to 70db.
Further improvements and monitoring reduced dB levels to a reading that allowed works to proceed overnight. This significantly reduced the overall duration of the programmed works and, therefore, the impact on the travelling public and local residents. Upon completion of the works, we were able to carry out a full removal of the access.
The innovative vehicle-mounted access scaffold is also more sturdy and therefore safer for our road workers than the mobile elevated working platform traditionally used for this type of work.

Plan and Progress
We've worked together with Highways England who have been involved throughout the project, including during the trial process.
Design and timing records for the vehicle mounted access scaffold have been made available to other contractors for Early Contractor Involvement (ECI) in upcoming works planning.
Measuring Success
Using the vehicle-mounted access scaffold led to a reduction of overall noise levels. These levels meet section 61 allowable values.
| | | |
| --- | --- | --- |
| Day | 07:00 – 19:00 | 79Db(A) |
| Evening | 19:00 – 23:00 | 77 dB(A) |
| Night | 23:00 – 07:00 | 73 dB(A) |
This innovative approach will be rolled out to similar projects in the future, with Jackson's already planning to use the same method for their upcoming works on the M4.