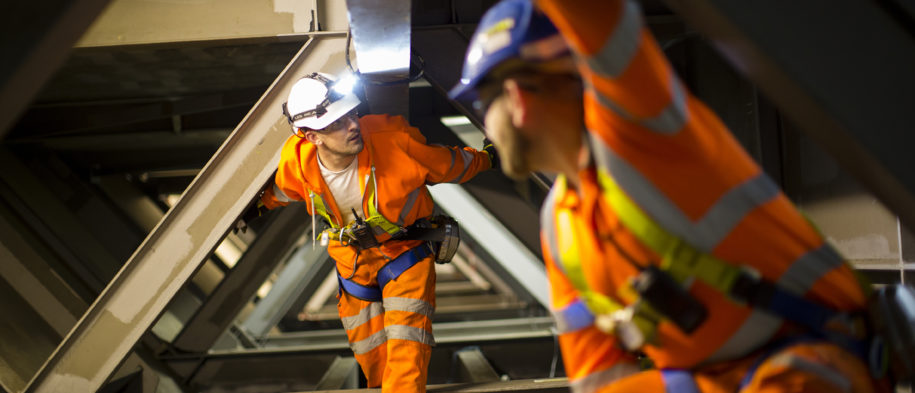 It is estimated that 1 in 10 of the male suicides in the UK list their occupation as in the construction industry.
Executive summary
We often shout about safety, but whisper about health and wellbeing. We hope to change that with an industry-leading approach.
Gade Valley is a technically complex long-term maintenance project with teams working away from home over several years. The teams undertake intricate and highly specialised technical work, including working in confined spaces and at height. We ran a pilot which concluded in October 2018 and the findings have been shared with the wider industry and Highways England through the Strategic Safety Forum, encouraging wider adoption of the results and insights this pilot has provided. It is hoped that the level of commitment to personal health and wellbeing will support individuals in making lifestyle changes that they will take to other construction sites and share with their colleagues.
The Wheel of Wellbeing programme was designed and developed in conjunction with Temporal Consulting. Temporal Consulting are the Connect Plus cultural advisors and specialists for the Connect Plus Supply Chain Community.
Aims and objectives
Suicide is the biggest killer of men under 50 and construction has one of the highest suicide rates of any profession. Construction workers are six times more likely to commit suicide than lose their life by falling from a height. They are 3.7 times more likely to take their own life than the national average. To be truly fit for work we must consider a more holistic approach for the individual.
Solution
The Gade Valley Viaduct project team at first thought the WOW was simply rolling out of a set of tool box talks and tactical initiatives, but WOW is much more than that. Engaging in WOW offers space to explore what is important and relevant through various reflective approaches. The combined approach of reflective practices such as 1-2-1 conversations and meditation with more conventional classroom information, leaves the person feeling more empowered to take control of their own well-being.

Plan and progress
The WOW is a programme with many steps required to engage a whole site and its community. The 14 steps and guidelines (as detailed and recommended in the pilot study) are the essential ingredients required to achieve the results and outcomes we discovered on the M25. The key areas of focus are:
Mindfulness, mental and emotional support
Mental health and self-esteem
Effective stress response
Nutrition
Physical health
Fatigue management
When all steps and guidelines are undertaken, they create conditions that invite individuals towards a more in-depth experience of what it could mean to be fit for work and indeed fit for life.
Measuring success
The data has shown a marked shift in attitude for the wider site group around some elements of the WOW but interestingly, we've seen far greater changes in attitudes and behaviours around all elements for the volunteer meditation group. In particular, 60% of this group stated that the phrase 'fit for work' is now extremely important, compared with 36.71% of the wider site group. Additionally, 80% claim that they understand and consistently monitor their mental health and emotional wellbeing. This is in stark contrast to the wider site group, where only 19.35% claimed to do the same.
There has also been a shift in awareness of the range of methods used to support mental health and emotional wellbeing. Before and after data illustrates a 15.88% swing towards this increased awareness and understanding. An exciting finding relates to the cultural bi products of running such an in-depth programme. Further benefits such as:
Improved site level collaboration and leadership
Reduction in stress and propensity to reactivity
More emotional intelligence and empathy
Less confrontation and more timely resolution of issues
Improvements in performance, productivity, team engagement, cross team working
Feedback
When practiced as a whole system of culture, leadership and health, the Gade Valley project team showed that this approach is culturally proactive and has the potential to be sustainable for individuals but also reaps benefits for improved on site collaboration and leadership.
All the findings and results have been shared with the wider industry and Highways England. through the Strategic Safety Forum, encouraging wider adoption of the results and insights this pilot has provided.
"At work I used to go in guns blazing. Now I analyse work situations better than I did before going into action."
"This has made a difference. There is more openness with more breaking down of barriers."
 "I step back more to resolve issues. Recently someone had an outburst at me. I stepped back, didn't react, then they stepped back, and we resolved it."
As a next step Connect Plus and their supply chain, in conjunction with Connect Plus Services, intend to take the results of the pilot and consider how to roll out the approach in such a way that sites benefit from the potential culture change with all its associated benefits. Discussions are also taking place about the potential of implementing the programme throughout our depots. The fixed position of a depot, together with the operative's working pattern, creates a very similar environment to that of a long-term site.