Connect Plus and partners digitally map the UK's busiest motorway
Connect Plus has successfully digitally mapped all 120 miles of the M25 – together with strategic partners Connect Plus Services, Sensat and Osborne.
Utilising Connect Plus and Connect Plus Services' detailed knowledge of the M25 and Osborne's operations expertise, Sensat used its advanced drone data capture and visualisation capability to capture 23 billion data points and 85,000 high-resolution images in 30 days – the largest drone mapping endeavour to have taken place in the UK to date.
With permission from the Civil Aviation Authority to fly drones within built up areas, the drones were used to remotely capture physical photogrammetric survey data - the science of making reliable measurements using photographs, or digital photo imagery, to locate features on or above the surface of the earth – safely and efficiently, without the need for traffic management or lane closures. This resulted in the production of highly accurate, geo-referenced 2D and 3D representations of the UK's busiest motorway and its adjoining trunk and slip roads.
Following the survey, the data was 'visualised' by turning the images and data into a 3D model of the road network, which will now be used to create a digital representation of the M25 environment. It will become a key source of detailed information, supporting the team in planning and decision-making, ultimately reducing the need for physical surveys to be carried out in a live highways environment.
Andy Dean, Chief Executive of Connect Plus, said: "We are thrilled that we're now in a position to create the first full digitisation of the M25, giving us a new and innovative way to deliver safer, more reliable journeys for our customers, whilst limiting disruption and reducing our roadworkers' exposure to live traffic. We've already significantly reduced time spent in a live highways environment during pre-works surveys and, by having fewer vehicles on the ground moving between traditional survey points, we have reduced our carbon emissions by 95%compared to traditional survey methods.
"This initiative is our first milestone in creating a much wider and integrated digital twin, which will support our planning, monitoring and decision-making."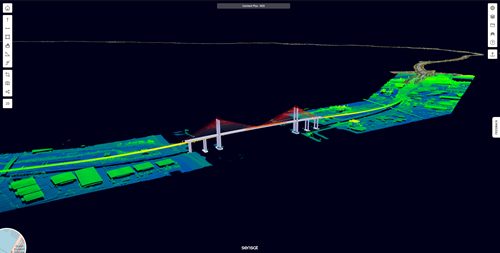 James Dean, Chief Executive Officer of Sensat commented on the use of data to help with decision making: "Capturing, visualising and then sharing topographic data in our platform means asset and road quality inspections, measurements and accurate reports can be undertaken quickly without people on site. Mark-ups can be made and are visible for all users, and descriptions and attachments can be added directly to enrich the data.
"With these tools, the complexity is taken out of physical data management and ultimately streamlines manual processes, increases productivity and supports the project's safe delivery."
Jamie Harrison, Highways Director of Osborne, said: "With the use of this 3D model, we have been able to increase safety by putting fewer employees on the M25 carriageways at night when inspections and surveys take place.
"All those who work on the M25 can now directly access accurate visual data remotely - to inspect assets, make decisions and reduce the need for boots on the ground."
Francis Cluett, Head of M25 Operations for Highways England, said: "This innovation is a fantastic step in using digital technology to reduce disruption to road users and improve the safety of road workers. Highways England looks forward to working with Connect Plus to see the benefits this technology delivers in support of our ambition to integrate digital technology into every aspect of our project lifecycles."
---
Notes to Editors
About Connect Plus and Connect Plus Services
Over 10 years ago, Highways England awarded Connect Plus the contract to operate and manage the M25 and its key arterial link roads.
Connect Plus is a consortium that includes Edge Orbital Holdings Ltd, Balfour Beatty and Egis Road Operation UK - a unique partnership with a collective strength in highways maintenance and management.
Connect Plus Services (CPS), is Connect Plus' specialist and strategic supply chain partner responsible for operations and maintenance, bringing together the collective strength and expertise of its parent companies, Balfour Beatty, Atkins and Egis Road Operation UK.
With a workforce of around 600 people, based at seven locations around the network, CPS carries out routine maintenance, and whole-life management of thousands of M25 assets. CPS manages the operation of the network 24 hours a day, 365 days a year, including a severe weather season maintenance programme.
Over the past 10 years, collectively we've delivered over £1.4bn worth of road improvements and junction enhancements, and we're continually exploring new and innovative ways to deliver safer, more reliable journeys for our customers. Together, we're passionate about delivering the long-term needs of the M25 and improving the driving experience for all our customers.
For further information please visit https://www.connectplusm25.co.uk/ or follow us at https://twitter.com/cpservices_m25