Connect Plus Services join the Great British Spring Clean campaign 2023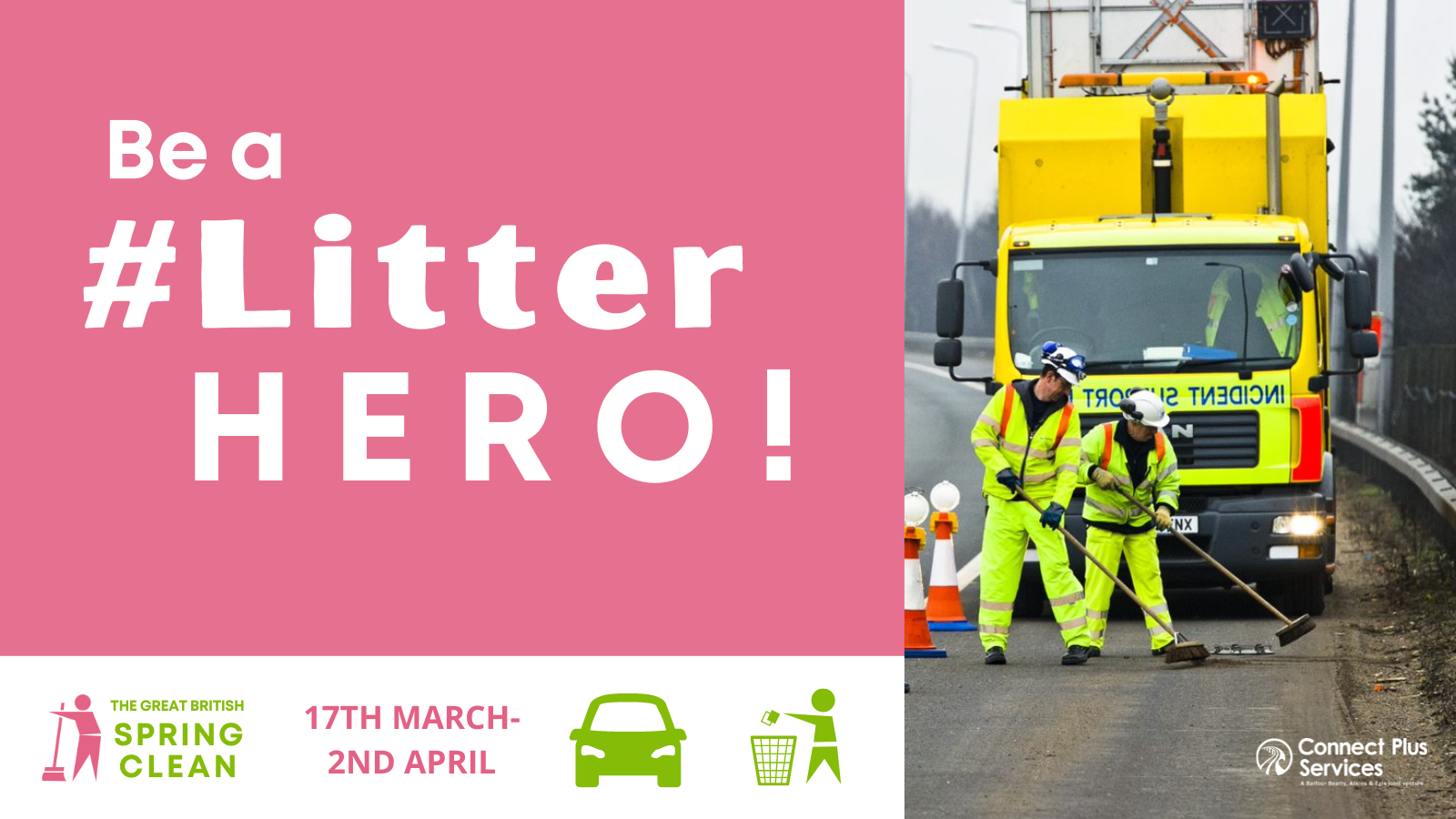 Every year litter becoming a growing concern, with a record amount dropped across the M25 network in 2022.
The result of increased litter, generated for most part by drivers throwing discarded items from windows, isn't just unsightly but is felt throughout our work on the network and in our customer raised queries.
In 2022 alone 2,821 tonnes of street cleaning was collected by our teams.
This litter causes considerable damage to the environment whilst sadly also endangering our local wildlife. Furthermore, the collecting of this litter puts our colleagues at serious risk and also diverts valuable money and time away from other crucial network works.
Therefore, the annual Great British Spring Clean campaign, created by Keep Britain Tidy, is one we wholeheartedly support and encourage everyone to get involved in.
The campaign, now in its eighth year, is the nation's biggest mass-action environmental campaign. This year it begins on 17th March and runs until the 2nd April.
Following the successes of previous years, we'll again be pledging our support to collect as many bags of litter within our local communities as well as committing our time to highlight the risks of litter on the M25 network.
As part of our litter collections, we've created a competition between our depots to collect the highest number of bags as well as combining this with our 'step into spring' campaign to encourage everyone to log their steps and get moving for spring.
Whilst we pledge our support to the Great British Spring Clean, our message to every road user is please don't put our workers at risk - take your litter home.
Elleanor Harris, Sustainability Manager at CPS, said: 'The annual Great British Spring Clean campaign is important to CPS as not only does it get us outside getting fresh air but more importantly it is another way for us to make a difference to the local communities around our depots. Every year we collect a huge amount of litter from just an hour of litter picking and it makes it clear how important it is to support the campaign.'
Read more about CPS' commitment to the environment here.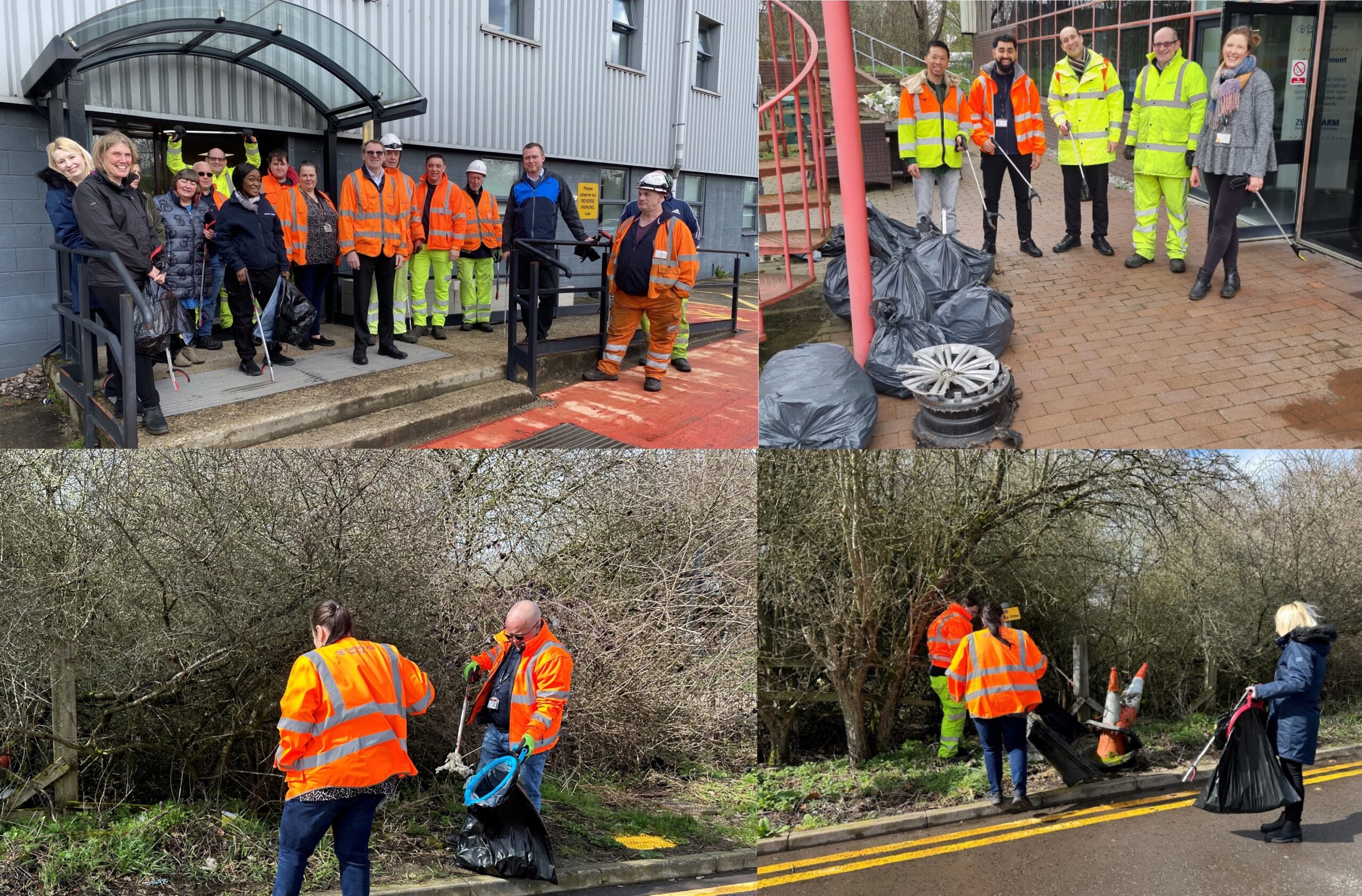 ---
Notes to Editors
About Connect Plus and Connect Plus Services
Over 10 years ago, Highways England awarded Connect Plus the contract to operate and manage the M25 and its key arterial link roads.
Connect Plus is a consortium that includes Edge Orbital Holdings Ltd, Balfour Beatty and Egis Road Operation UK - a unique partnership with a collective strength in highways maintenance and management.
Connect Plus Services (CPS), is Connect Plus' specialist and strategic supply chain partner responsible for operations and maintenance, bringing together the collective strength and expertise of its parent companies, Balfour Beatty, Atkins and Egis Road Operation UK.
With a workforce of around 600 people, based at seven locations around the network, CPS carries out routine maintenance, and whole-life management of thousands of M25 assets. CPS manages the operation of the network 24 hours a day, 365 days a year, including a severe weather season maintenance programme.
Over the past 10 years, collectively we've delivered over £1.4bn worth of road improvements and junction enhancements, and we're continually exploring new and innovative ways to deliver safer, more reliable journeys for our customers. Together, we're passionate about delivering the long-term needs of the M25 and improving the driving experience for all our customers.
For further information please visit https://www.connectplusm25.co.uk/ or follow us at https://twitter.com/cpservices_m25