Dartford Queen Elizabeth II Bridge Celebrates 30 years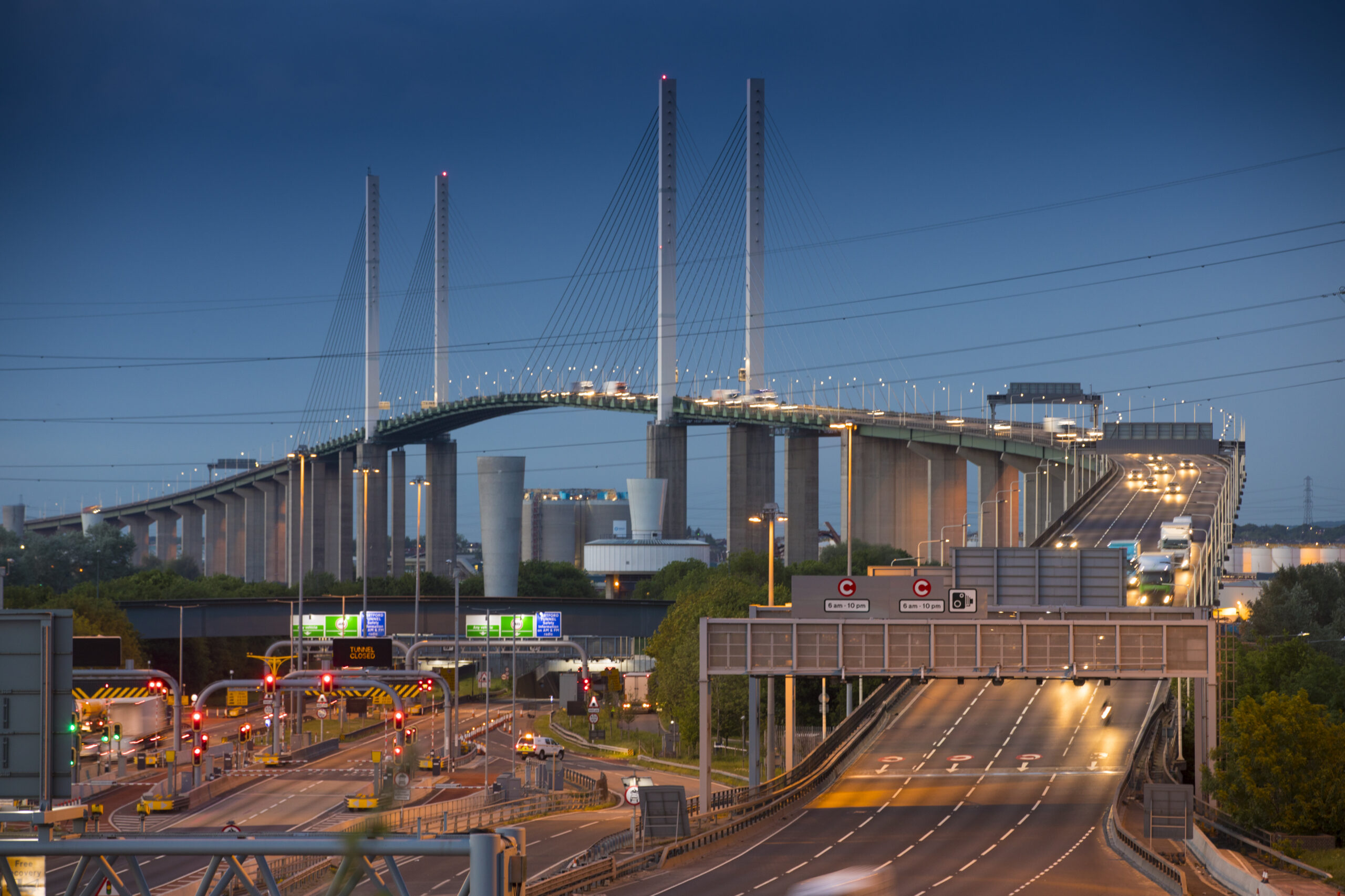 This weekend marks 30 years since Her Majesty Queen Elizabeth II opened the Dartford Bridge in October 1991.
It was the first bridge to be built at an entirely new location along the river Thames for more than 50 years. When the M25 motorway was completed in 1986, the Dartford tunnels provided a vital link in the national road network.
Beneath the waterline, the bridge rests on two reinforced concrete foundations, each of which is the equivalent in volume of 400 double-decker buses and weighing a total of 85,000 tonnes. These were constructed at a dry dock in Holland and towed across the North Sea by tugs on a 150-mile journey to the River Thames and sunk into position either side of the navigation channel.
Looking back over the 30 years of one of South England's greatest landmarks, we spoke to Steve Pattrick (Strategic Structures Asset Manager, Connect Plus Services) who was part of the design and construction team.
"In 1989, after asking to join the construction project,  I joined the Dartford team in November that year, only a couple of months after construction began. 
My first memory of working on-site was of me climbing up to the top of the scaffold on one of the piers, which is about 45 meters high now. I still remember the feeling of the scaffold under my feet as I stepped over a gap onto the slip formed pier with the great view that kind of height provides.  
The construction programme was relentless, meaning we worked six days a week for ten to twelve hours a day. We ultimately completed the construction of the bridge in an impressive three years. 
The bridge opened officially on 30 October 1991. I remember being there lifting the cones with the site general manager on the very first night live traffic went across the bridge. I was also pleased to attend the official opening ceremony attended by Her Majesty the Queen. 
I feel proud of the fact that I've worked on almost every single element of the bridge."
The bridge is operated and maintained by our teams at Dartford who work around the clock to keep the bridge and tunnels flowing smoothly. Dartford has its own dedicated control room which monitors the traffic, a team of National Highways' traffic officers, maintenance crews and vehicle recovery teams based on-site to respond to incidents quickly.
We're proud of the great work delivered by our teams at the crossing and for their contribution to keeping the country moving.
---
Notes to Editors
About Connect Plus and Connect Plus Services
Over 10 years ago, Highways England awarded Connect Plus the contract to operate and manage the M25 and its key arterial link roads.
Connect Plus is a consortium that includes Edge Orbital Holdings Ltd, Balfour Beatty and Egis Road Operation UK - a unique partnership with a collective strength in highways maintenance and management.
Connect Plus Services (CPS), is Connect Plus' specialist and strategic supply chain partner responsible for operations and maintenance, bringing together the collective strength and expertise of its parent companies, Balfour Beatty, Atkins and Egis Road Operation UK.
With a workforce of around 600 people, based at seven locations around the network, CPS carries out routine maintenance, and whole-life management of thousands of M25 assets. CPS manages the operation of the network 24 hours a day, 365 days a year, including a severe weather season maintenance programme.
Over the past 10 years, collectively we've delivered over £1.4bn worth of road improvements and junction enhancements, and we're continually exploring new and innovative ways to deliver safer, more reliable journeys for our customers. Together, we're passionate about delivering the long-term needs of the M25 and improving the driving experience for all our customers.
For further information please visit https://www.connectplusm25.co.uk/ or follow us at https://twitter.com/cpservices_m25