First trees planted at new community woodland in Kent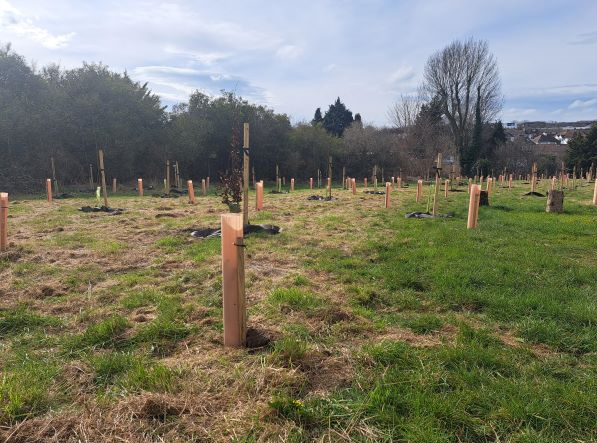 As part of National Highways and Swanley Town Council improvement works at the Pinks Hill balancing pond near Junction 3 at Swanley, Connect Plus and Connect Plus Services have helped plant over 3500 trees.
The trees are across three sites close to the pond itself and support Connect Plus Services' focus on protecting and enhancing the environment surrounding the M25.
All the plants are native, both trees and the wildflower seed mix, and they all offer something to wildlife such fruits/nuts and all are used as invertebrate food plants.
Those trees planted have been chosen from the following species: Yew, Hazel, Dog Rose, Rowan, Spindle, Crab Apple, Silver Birch, Beech, Hawthorn, Small-leaved Lime, Sweet Chestnut, Field Maple, Elder, Wild Privet, Wayfaring Tree, Dogwood and Wild Cherry.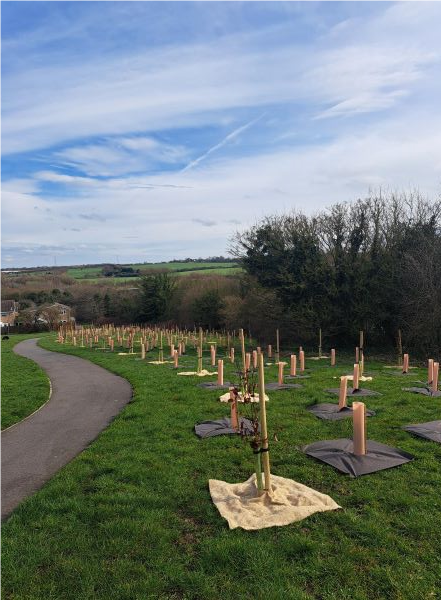 Francis Cluett, National Highways lead, said: "We are delighted to join the council, to plant near Pinks Hill. These local improvements at Pinks Hill will deliver real benefits for people living nearby. These new trees are part of our plans to ensure the local environment is improved.
"We recognise that the M25 at Swanley runs close to some exceptionally beautiful countryside and we want to make sure it stays that way, so that's why the team from Connect Plus Services will be visiting regularly to check on the condition of the trees."
Read more in Highways News and Highways Industry. An article was also included in the Swanley Town Council Monthly Magazine.
---
Notes to Editors
About Connect Plus and Connect Plus Services
Over 10 years ago, Highways England awarded Connect Plus the contract to operate and manage the M25 and its key arterial link roads.
Connect Plus is a consortium that includes Edge Orbital Holdings Ltd, Balfour Beatty and Egis Road Operation UK - a unique partnership with a collective strength in highways maintenance and management.
Connect Plus Services (CPS), is Connect Plus' specialist and strategic supply chain partner responsible for operations and maintenance, bringing together the collective strength and expertise of its parent companies, Balfour Beatty, Atkins and Egis Road Operation UK.
With a workforce of around 600 people, based at seven locations around the network, CPS carries out routine maintenance, and whole-life management of thousands of M25 assets. CPS manages the operation of the network 24 hours a day, 365 days a year, including a severe weather season maintenance programme.
Over the past 10 years, collectively we've delivered over £1.4bn worth of road improvements and junction enhancements, and we're continually exploring new and innovative ways to deliver safer, more reliable journeys for our customers. Together, we're passionate about delivering the long-term needs of the M25 and improving the driving experience for all our customers.
For further information please visit https://www.connectplusm25.co.uk/ or follow us at https://twitter.com/cpservices_m25