Success at the

National Highways South-East Alliance Awards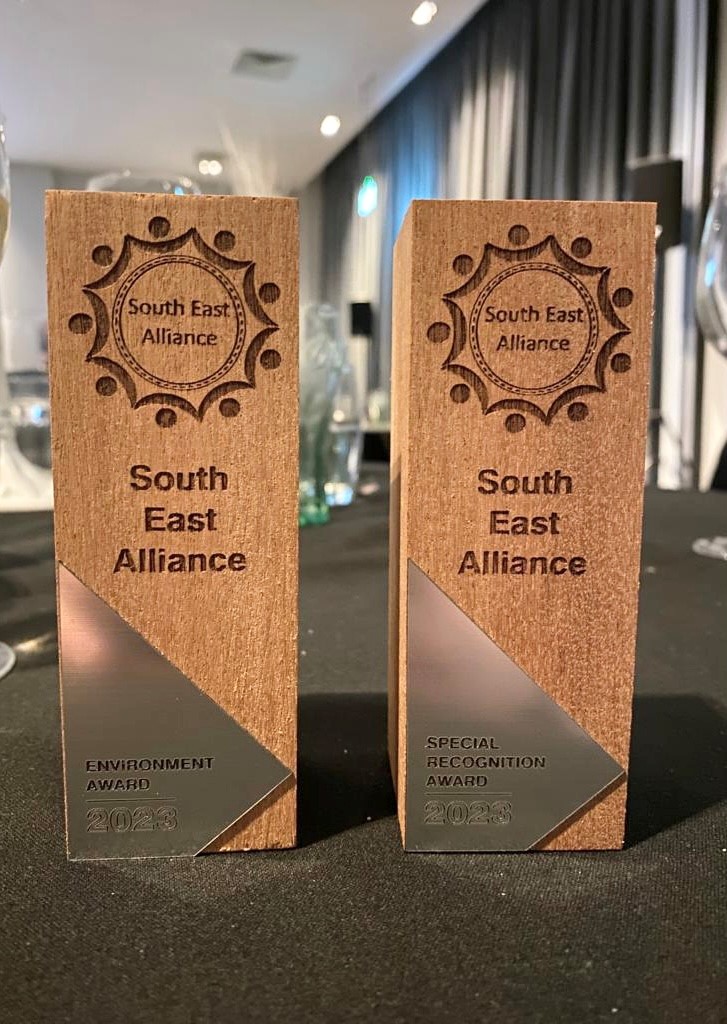 We were delighted to attend the prestigious National Highways South-East Alliance Awards, which showcase and celebrate the very best of the industry in the Southeast areas (Areas 3, 4 and 5). 
There were many fantastic entries put forward, and we're proud to be announced winners, in numerous categories. 
Alongside Connect Plus, we took the title in the Environment category which recognised the work our brilliant teams have been doing in developing our carbon strategy. In doing so, it has involved extensive focus to understand, analyse and reduce the amount of greenhouse gases that we are emitting.  
In the Overall Special Recognition Award, we were honoured to win alongside Connect Plus, Octavius Infrastructure and Steve Perkins Associates. This award celebrated the social value work carried out in the community on our Gade Valley scheme, as well as the healthier highways project.  
Measuring our social value allows us to understand and manage the contribution that we make to our society. The Gade Valley team have shown strong commitment to social value, not only have they committed their time and skills to help charities and community groups, but they have also raised funds, donated surplus site materials and furniture, and sponsored tickets for award ceremonies to help celebrate success. Up to the end of March 2022, £14,288,411.80 of social value has been added to the project, including local economic value.  
Also in this category, our collaborative work alongside Steve Perkins Associates in 'Healthier Highways' was celebrated. This initiative focuses on improving health protection across the M25 supply chain; demonstrating how important innovation is to health, safety and wellbeing in the industry. As a result of our teams' work, we have been able to more than halve dust levels through more robust use of existing engineering controls, resulting in a much safer working environment at little or no additional cost implication. We have now successfully embedded improved working methods, with checks in place from framework contractors, and improved risk assessments and maintenance schedules from the supply chain. 
It was also wonderful to be joint winners in the Delivery category for our involvement in the Smart Motorway stocktake. A great example of collaboration and innovation throughout the project. 

In addition, we were highly commended in collaboration award as well as the customer award, which highlighted the efforts our teams went to through to support a family involved in a road traffic collision on the network. The team truly went above and beyond, having an enormous impact on those involved. 
A further individual mention was made for the outstanding work carried out by one of our colleagues, Mick Paternoster, in supporting during a mental health emergency on the network. Mick's work was an outstanding example of going the extra mile, and well deserving of the recognition. 
It was a fantastic event and we're especially proud to celebrate the impact our dedicated M25 team have on the industry. 
---
Notes to Editors
About Connect Plus and Connect Plus Services
Over 10 years ago, Highways England awarded Connect Plus the contract to operate and manage the M25 and its key arterial link roads.
Connect Plus is a consortium that includes Edge Orbital Holdings Ltd, Balfour Beatty and Egis Road Operation UK - a unique partnership with a collective strength in highways maintenance and management.
Connect Plus Services (CPS), is Connect Plus' specialist and strategic supply chain partner responsible for operations and maintenance, bringing together the collective strength and expertise of its parent companies, Balfour Beatty, Atkins and Egis Road Operation UK.
With a workforce of around 600 people, based at seven locations around the network, CPS carries out routine maintenance, and whole-life management of thousands of M25 assets. CPS manages the operation of the network 24 hours a day, 365 days a year, including a severe weather season maintenance programme.
Over the past 10 years, collectively we've delivered over £1.4bn worth of road improvements and junction enhancements, and we're continually exploring new and innovative ways to deliver safer, more reliable journeys for our customers. Together, we're passionate about delivering the long-term needs of the M25 and improving the driving experience for all our customers.
For further information please visit https://www.connectplusm25.co.uk/ or follow us at https://twitter.com/cpservices_m25