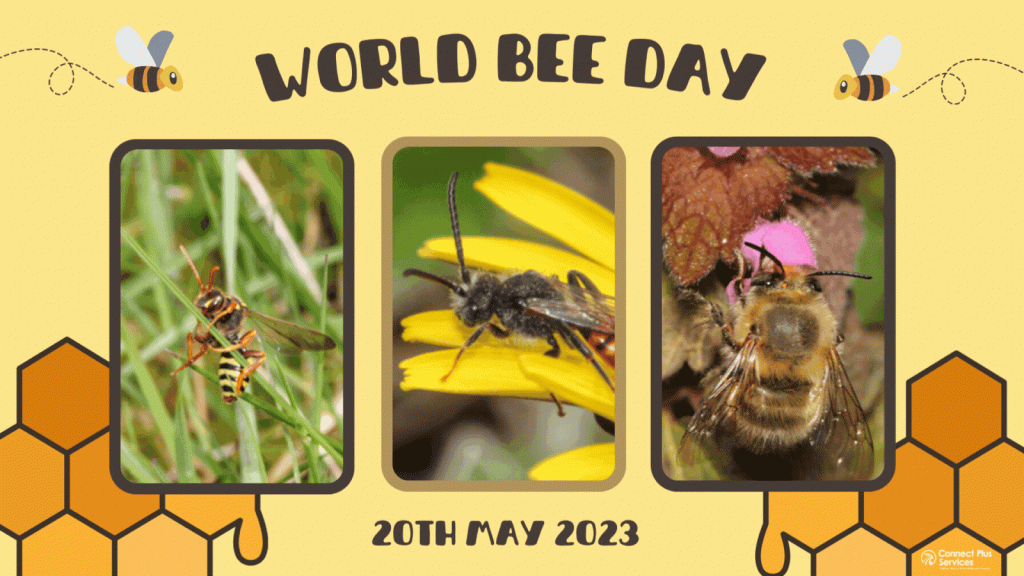 World Bee Day is celebrated on 20th May each year and aims to spread awareness of the significance bees. 
In the UK bees are in severe decline, helped by a combination of habitat loss, pollution and climate change. Bees are essential and sadly often overlooked. Our own diets rely heavily on the work that bees do - in addition to the honey and wax bees produce themselves. 
Our environment team are dedicated to supporting and enhancing the environment of local species, which includes bees, across the M25 network.  

To celebrate the day, we have identified which bee species you would find in our species rich grassland that we create and maintain: 
Tawny Mining Bee (Andrena fulva): The Tawny mining bee is a common solitary bee that is often seen in spring, they nest underground, building a little volcano-like mound of soil around the mouth of its burrow.  
Two Coloured Mason Bee (Osmia bicolor): The Two-coloured Mason Bee is another common solitary bee found in the southern half of the UK and recently seen on the BBC series Wild Isles. These Bees uses vacant snail shells as nest sites and once complete the Bee will camouflage the shell with twigs that they find a bring back to the nest. 
Nomad Bees and Cuckoo Bumblebees: There are 37 species of Nomad Bee which are all cleptoparasites of Mining Bees. They exploit the arduous work of Mining Bees by laying their eggs in the Mining Bee`s nests for them to raise hence the other name Cuckoo Bee. 
Field Cuckoo Bumblebee (Bombus/Psithyrus campestris): There are also 6 species of Cuckoo Bumblebees which only target Bumblebee Nests. 
Hairy-footed Flower Bee (Anthophora plumipes): This solitary bee is often mistaken for a Bumblebee due to how hairy it is, but its flight is very distinctive, it has also shows unmistakable sexual dimorphism. The male is ginger, and the female is black, the male has long hairs on his feet. At night, the female will sleep in the nest, normally a hole in old mortar and the male will find a flower to sleep in. They are often seen feeding on Red Dead Nettle (Lamium purpureum) which turns their pollen baskets a vivid pink. 
Shrill carder bee (Bombus sylvarum): The Shrill carder Bee is one of the UK`s rarest Bumblebees that is confined to small populations in Kent, Essex, Somerset, Wiltshire, Gwent, Glamorgan and Pembrokeshire. The Shrill carder bee is very distinctive due to its straw like colour with a red tail and its high pitch buzz when in flight. This year we shall be surveying a large area beneath the QE2 bridge in Dartford for a population as they have been recorded previously a few kilometres away and the site is suitable. 

We are committed to supporting each species and in advocating education on how everyone can make their difference for bees to thrive.  
This includes attracting bees by planting: 
Lavender: blooms from June - August

 

Marjoram: sow and grow inside until early summer and then move it outside to a sunny, sheltered spot

 

Ivy: flowers in Autumn months

 

Borage Blue: plant after the last date of frost in a herb or flower garden, ideally near strawberries 

 

Rhododendron

 

---
Notes to Editors
About Connect Plus and Connect Plus Services
Over 10 years ago, Highways England awarded Connect Plus the contract to operate and manage the M25 and its key arterial link roads.
Connect Plus is a consortium that includes Edge Orbital Holdings Ltd, Balfour Beatty and Egis Road Operation UK - a unique partnership with a collective strength in highways maintenance and management.
Connect Plus Services (CPS), is Connect Plus' specialist and strategic supply chain partner responsible for operations and maintenance, bringing together the collective strength and expertise of its parent companies, Balfour Beatty, Atkins and Egis Road Operation UK.
With a workforce of around 600 people, based at seven locations around the network, CPS carries out routine maintenance, and whole-life management of thousands of M25 assets. CPS manages the operation of the network 24 hours a day, 365 days a year, including a severe weather season maintenance programme.
Over the past 10 years, collectively we've delivered over £1.4bn worth of road improvements and junction enhancements, and we're continually exploring new and innovative ways to deliver safer, more reliable journeys for our customers. Together, we're passionate about delivering the long-term needs of the M25 and improving the driving experience for all our customers.
For further information please visit https://www.connectplusm25.co.uk/ or follow us at https://twitter.com/cpservices_m25