CPS & Octavius discuss careers in the industry at local school's fair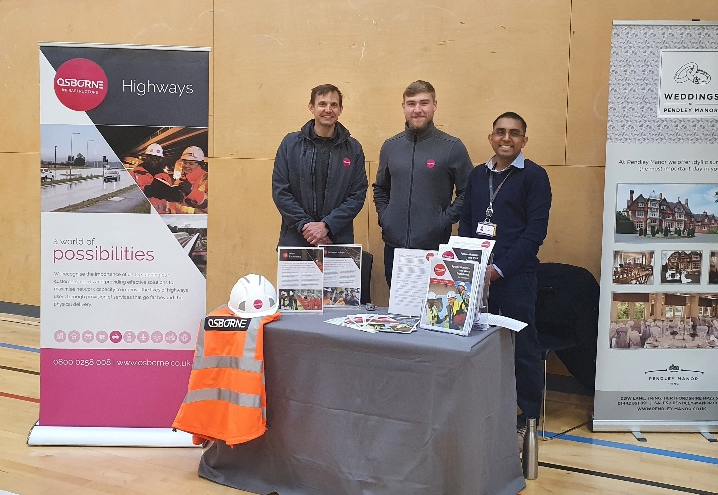 A large contribution to Connect Plus Services' (CPS) commitment to social value is a focus on sharing opportunities available in the industry to young people and supporting their learning.
As part of this commitment, Senior Project Manager at CPS, Nitin Patel, attended Kings Langley Secondary School to take part in their recent careers fair.
Nitin was also joined by three members of the  Octaviuswho form part of our Gade Valley scheme. Owing to the school's proximity to our ongoing works to strengthen the viaduct, many of the students were particularly keen to understand more about the project and to learn about the jobs roles involved.
The event was targeted to engage with year 10 and 11 pupils, with each year being given structured time to browse the fair and talk to employers. This allowed the students plenty of time to learn about the different types of roles available and what it is like to work within the industry.
The team also discussed apprenticeship and graduate opportunities, as well as sharing their own experiences and answering any questions the student's had.
Nitin said:
'It was great to engage with Year 10 and 11 students at the fair and highlight the opportunities available to them within Highways and Construction. A lot of the pupils were aware of the Gade Valley Viaduct project as it is nearby the school, and it was good to be able to explain the benefits of the project. We hope that our involvement in the fair will help them decide which subjects to study in further education or encourage them to explore a path into the industry through apprenticeships.'
Mrs Jan Wright, Information, Advice & Guidance Co-ordinator at King's Langley School, said:
'A sincere thank you for attending our recent Careers Fair, your time and commitment were very much appreciated.
We very much value the time and support that our local businesses, organisations and other educational establishments provide and without them we would not be able to offer our young people the essential and meaningful encounters that they need to enable them to learn and gather information about the opportunities available to them and the options to be explored, regardless of the route they are going to be taking.
Students were also able to see what the 'world of work' may offer them and to talk to the professionals directly which will hopefully go some way towards many of them knowing what they have to achieve in order to pursue their chosen career pathway.'
Working with local schools particularly forms part of the company's Adopt a School initiative. This initiative focuses on engaging with children to promote the industry as a future career choice, raise awareness of CPS road activities and campaigns, and to utilise the skills of the business to build improvements to school facilities.
This initiative is at the heart of the CPS corporate responsibility programme. Read more about it here.
---
Notes to Editors
About Connect Plus and Connect Plus Services
Over 10 years ago, Highways England awarded Connect Plus the contract to operate and manage the M25 and its key arterial link roads.
Connect Plus is a consortium that includes Edge Orbital Holdings Ltd, Balfour Beatty and Egis Road Operation UK - a unique partnership with a collective strength in highways maintenance and management.
Connect Plus Services (CPS), is Connect Plus' specialist and strategic supply chain partner responsible for operations and maintenance, bringing together the collective strength and expertise of its parent companies, Balfour Beatty, Atkins and Egis Road Operation UK.
With a workforce of around 600 people, based at seven locations around the network, CPS carries out routine maintenance, and whole-life management of thousands of M25 assets. CPS manages the operation of the network 24 hours a day, 365 days a year, including a severe weather season maintenance programme.
Over the past 10 years, collectively we've delivered over £1.4bn worth of road improvements and junction enhancements, and we're continually exploring new and innovative ways to deliver safer, more reliable journeys for our customers. Together, we're passionate about delivering the long-term needs of the M25 and improving the driving experience for all our customers.
For further information please visit https://www.connectplusm25.co.uk/ or follow us at https://twitter.com/cpservices_m25