Local

primary school competition names three CPS gritters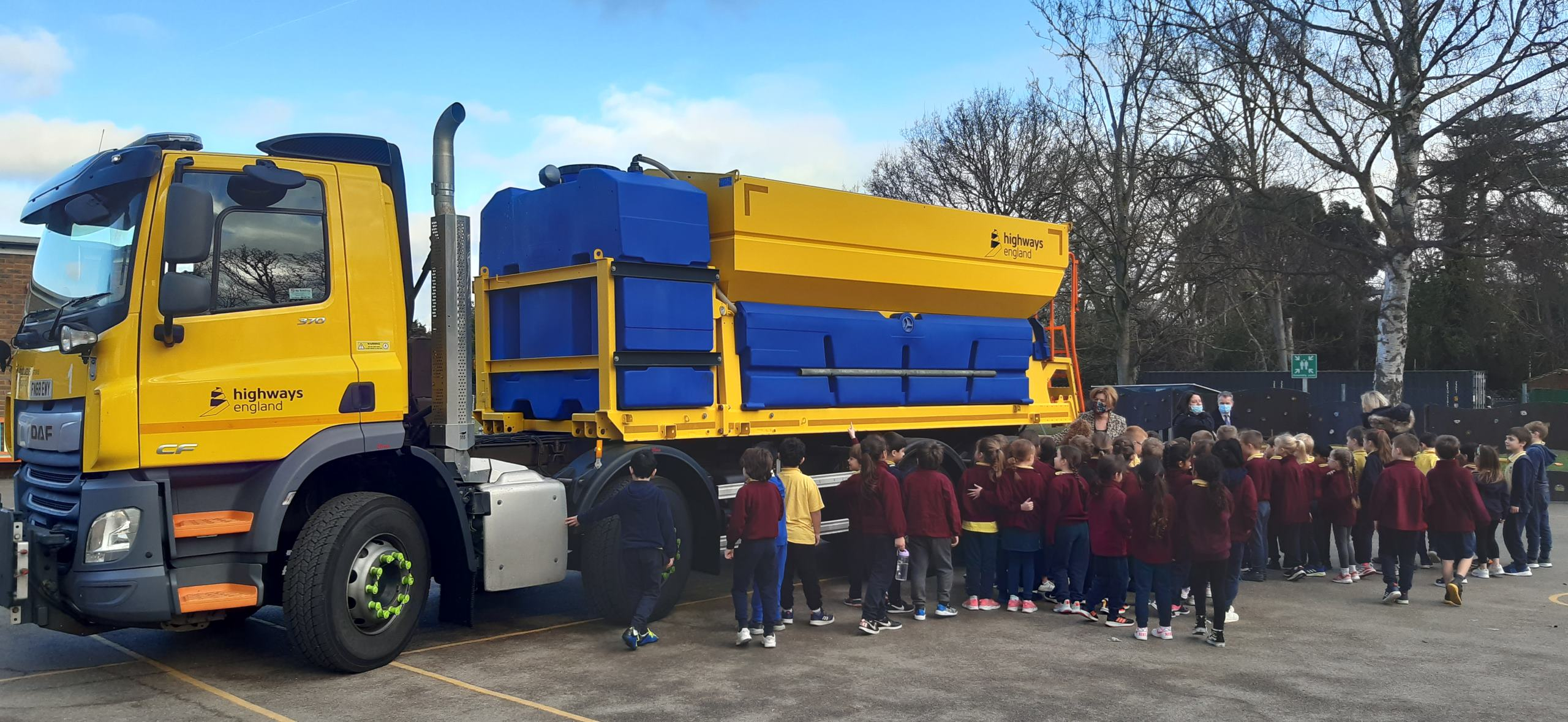 Taking along one of their iconic gritters, Connect Plus Services (CPS) visited a local primary school to demonstrate the importance of their work when temperatures drop. 
The children at St Peter's Catholic Primary School, close to the CPS Leatherhead depot, were also taught about road safety, how the gritting team keep drivers on the move in cold weather and the importance of giving gritters space when they're working.  
Whilst at the school, the CPS team challenged the children to create a name for one of these huge machines. Out of the entries received, three were to be chosen and officially added to the fleet. 
So many fantastic and impressive ideas were designed by the children. It was an especially difficult decision; however, the CPS Leatherhead team crowned their winning names as: 
The B.F.G – The Big Friendly Gritter

 

Defrostinator

 

Mr Frosty

 

Overall, it was an excellent opportunity to show the children a gritter lorry up close, to meet some of the CPS team and to teach about the importance of their work in colder temperatures. 
CPS are now proud to introduce three new names to the fleet. 

Working with local schools forms part of the company's Adopt a School initiative. This initiative focuses on engaging with children to promote the industry as a future career choice, raise awareness of CPS road activities and campaigns, and to utilise the skills of the business to build improvements to school facilities. 
This initiative is at the heart of the CPS corporate responsibility programme. Read more about it here.
---
Notes to Editors
About Connect Plus and Connect Plus Services
Over 10 years ago, Highways England awarded Connect Plus the contract to operate and manage the M25 and its key arterial link roads.
Connect Plus is a consortium that includes Edge Orbital Holdings Ltd, Balfour Beatty and Egis Road Operation UK - a unique partnership with a collective strength in highways maintenance and management.
Connect Plus Services (CPS), is Connect Plus' specialist and strategic supply chain partner responsible for operations and maintenance, bringing together the collective strength and expertise of its parent companies, Balfour Beatty, Atkins and Egis Road Operation UK.
With a workforce of around 600 people, based at seven locations around the network, CPS carries out routine maintenance, and whole-life management of thousands of M25 assets. CPS manages the operation of the network 24 hours a day, 365 days a year, including a severe weather season maintenance programme.
Over the past 10 years, collectively we've delivered over £1.4bn worth of road improvements and junction enhancements, and we're continually exploring new and innovative ways to deliver safer, more reliable journeys for our customers. Together, we're passionate about delivering the long-term needs of the M25 and improving the driving experience for all our customers.
For further information please visit https://www.connectplusm25.co.uk/ or follow us at https://twitter.com/cpservices_m25