Highways Magazine: W

hy embracing technology is crucial in protecting workers health and wellbeing

 

Technology is at the forefront of the highways industry, particularly in health and safety, which is a shared priority of Connect Plus Services, who operate and maintain the M25 on behalf of National Highways and Connect Plus. 
As discussed in Highways Magazine, advances in technology are proving vital in removing workers from positions of heightened risk. 
Through its Innovation Designated Funds programme, National Highways is investing in autonomous plant, which will help protect workers. 
One of such pioneering advances is the Automated Cone Laying Machine (ACLM). 
The revolutionary machinery can deploy or collect a cone every ten seconds, removing the need for this to be done manually by operatives. It has been developed and supplied in collaboration by Highway Care and SENN Engineering before being announced onto the M25 by one of CPS' parent companies, Balfour Beatty. 
Traffic Management will always remain crucial aspect of road maintenance, with cone deployment being the primary measure for the safety of our workforce and the public. However, manual cone laying is classified as one of our ten fatal risks. 
By automating the cone laying and collecting process, critical risks are removed: 
Operatives removed from the network to position of safety 

 

Manual handling eliminated 

 

Long-term health benefits from elimination of manual handling, risks of hearing damage

 

Improved working conditions, including weather 

 

Greater accuracy in cone placement through automation

 

Tapering activities supported

 

Operative upskilled in use of technology

 

Loading/unloading manual handling eliminated

 

It's body build design accommodates key TM equipment i.e. sign frames/sign plates/sandbags/lamps. 

 

Capability to complete extended closures based on cone capacity

 

Removes possibility of operatives being a distraction hazard

 

Opportunities for efficiencies in resource – simplified operation with few operatives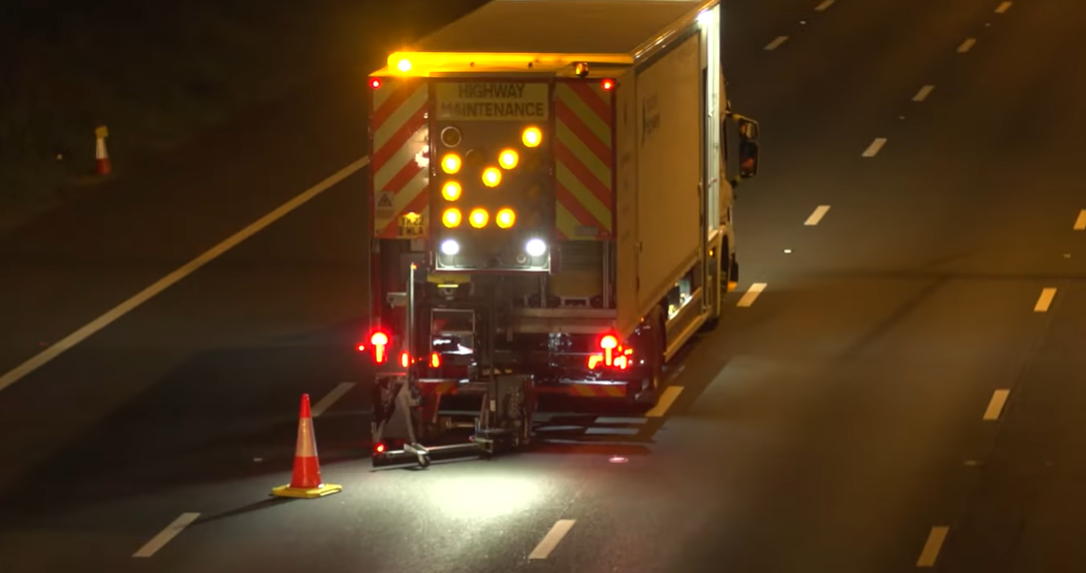 Dale Hicks, Technical Officer at CPS, said: 'The major benefit is removing the workforce from the point of danger. Standing in the footwell they are so close to the moving traffic. They are exposed to extreme noise levels, emissions. The cone laying machine removes all that, it's phenomenal' 
Read the full article in Highways Magazine, including quotes from our team and more about how innovation is enhancing health and safety in the industry, here (page 14-15). 
We currently have many exciting career opportunities available throughout the business and various departments, which can be found online here.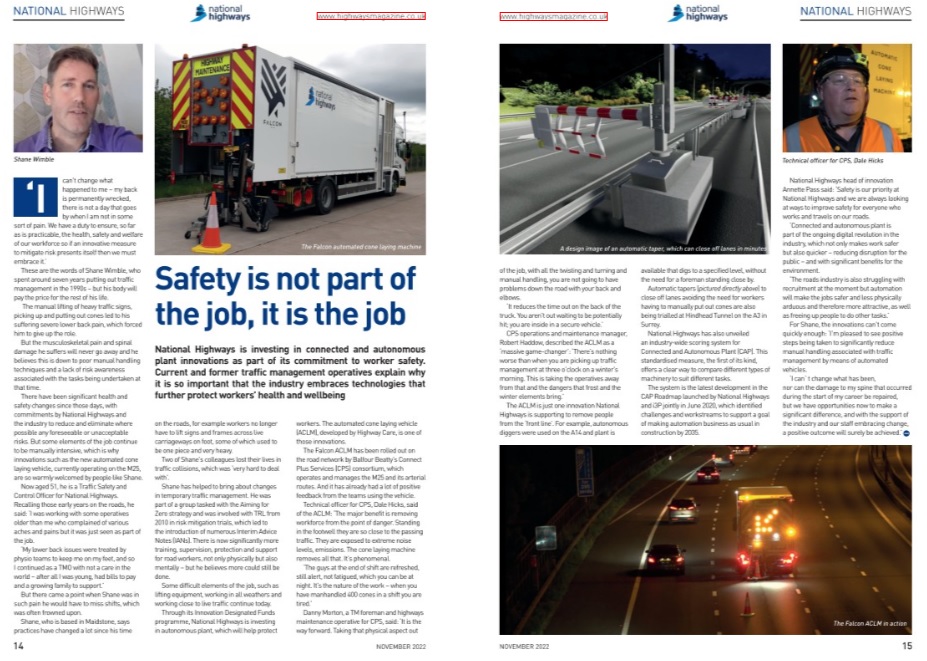 ---
Notes to Editors
About Connect Plus and Connect Plus Services
Over 10 years ago, Highways England awarded Connect Plus the contract to operate and manage the M25 and its key arterial link roads.
Connect Plus is a consortium that includes Edge Orbital Holdings Ltd, Balfour Beatty and Egis Road Operation UK - a unique partnership with a collective strength in highways maintenance and management.
Connect Plus Services (CPS), is Connect Plus' specialist and strategic supply chain partner responsible for operations and maintenance, bringing together the collective strength and expertise of its parent companies, Balfour Beatty, Atkins and Egis Road Operation UK.
With a workforce of around 600 people, based at seven locations around the network, CPS carries out routine maintenance, and whole-life management of thousands of M25 assets. CPS manages the operation of the network 24 hours a day, 365 days a year, including a severe weather season maintenance programme.
Over the past 10 years, collectively we've delivered over £1.4bn worth of road improvements and junction enhancements, and we're continually exploring new and innovative ways to deliver safer, more reliable journeys for our customers. Together, we're passionate about delivering the long-term needs of the M25 and improving the driving experience for all our customers.
For further information please visit https://www.connectplusm25.co.uk/ or follow us at https://twitter.com/cpservices_m25